Rx7 with ls1 - Used Cars
Rx7 with ls1 for Sale ( Price from $1000.00 to $27000.00)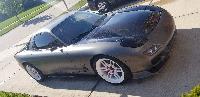 Hey everyone! Finally found a house I wanted and recently moved in, haven't had much time to enjoy the Rx7 so figured I'd put her for sale. It's an absolute blast to drive. Engine and drivetrain:-Tuned by the Vette Dr. Phil. Car ...
Location:

Roxbury, NY 12474

Transmission:

T56 Manual 6 speed

Seller:

HotClassic
112,300 Miles
Harrisonburg, VA
Vehicle: 93 Mazda Rx7 powered by LS1 Mileage: 112k miles on chassis Transmission: 6-speed T56 Color: Ferrari Red Location: Northern VA Price: $27,000 obo Reason for Selling: I have found that Im the type of enthusiast that really ...
Mileage:

112,300 Miles

Location:

Harrisonburg, VA 22602

Exterior:

Red

Transmission:

Manual
I have for sale a Porsche 944 it was a project to rebuild it with a chevy LS1 motor but lost interest wanting a 1000.00 as it sits or trade for a mazda miata or any small car any condition running or not running it doesn`t matter ...