New sand rails - Used Cars
New sand rails for Sale ( Price from $1500.00 to $60500.00)
A super clean, very well built sand rail with a rare rear seat. '74 Beetle vin with original vin tag. Fresh 1877 VW engine that runs great and makes good power. No leaks anywhere. Hydraulic clutch and brake systems. Drives straight ...
Mileage:

7,777 Miles

Location:

Deland, FL 32724

Exterior:

Yellow

Transmission:

Manual

Seller:

Elite Motorcar, LLC
...Seller Description: Great starter sand rail.Less engine. Must see
Location:

Los Angeles, CA 90039

Seller:

Recycler
THIS RAIL WAS BORN AND RAISED IN ARID HOT ARIZONA!!! A BACK ROAD BLASTING, BARREL OF FUN CAR, THAT YOU CAN DRIVE ON THE HIGHWAY, TOO! DIRT-CHEAP FUN!--------------------INTERNET SPECIAL PRICE!--$3888.00 Visit Courtesy Auto Sales ...
Location:

Cottonwood, AZ 86326

Exterior:

Burgundy

Transmission:

4 Speed

Seller:

Courtesy Auto Sales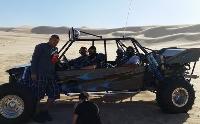 2008 Custom Built Sand Rail. Equipped with a LS1 V8 cylinder engine-Manual transmission-Rear wheel drive-Seats 5 passengers-100 shots of Nitrous-AM FM radio with single disc CD player-Amplifier and subwoofer-Head set-Car to car-Power ...
Location:

Calabasas, CA 91302

Exterior:

Multi

Seller:

Autabuy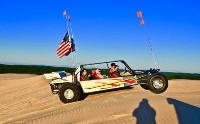 2003 Dune Buggy Sand Rail--This is a Michigan Assembled Roadster Title 2003 this is a one (1) owner car we built and took great care of it. This is a Dan Baudoux Chassis Chromoly Tubing. -The first 3 photo are the most currant photos ...
Mileage:

6,800 Miles

Location:

Calabasas, CA 91302

Exterior:

Gray

Seller:

Autabuy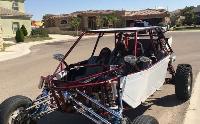 2006 Quicksand Performance Sand Rail. Fully Loaded -4 Seater -5.3 Liter V8-375 Hp 4-speed Manual Transmission -Racerunner -Dual Bi-pass Shocks -Power Steering -4-wheel Disc Breaks -Bead-locks -Ron Davis Radiator -2 Extra Back Wheel ...
Location:

Calabasas, CA 91302

Exterior:

White

Seller:

Autabuy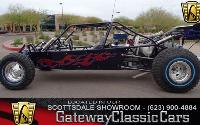 Gateway Classic Cars of Scottsdale is excited to present this sandy, dune destroyer, 2001 SPCON Sand Rail. This pro built, beast of a machine is guaranteed to provide years worth of fun for whoever buys it. Our sand running master ...
Location:

O Fallon, IL 62269

Exterior:

Blue W/ Flames

Transmission:

Three Speed Automatic

Seller:

Autabuy
...Seller Description: VW Sand Rail dune buggy. Complete, all parts included, needs TLC. Must see to appreciate. $1,500.00 706-830-3206
Location:

Augusta, GA 30907

Seller:

Recycler
...1972 vw sand rail rebuilt drive train for street. has warranty, has turn signals, head lights and break lights. 33\" tires in the rear. fun ...
: STREET LEGAL VW SANDRAIL DUNE BUGGY. CLEAR FLORIDA TITLE. TITLED AS A 1972 VW BEETLE. GREAT WEEKEND FUN, I GET TONS OF LOOKS IN THIS THING. NEW EMPI CARBURATOR AND INTAKE. NEW FRONT WHEEL BEARINGS AND BALL JOINTS. NEW TIE RODS. ...
Location:

Sarasota, FL 34238
: Sand Rail For Sale This Sand Rail is completely street legal and ready to go. The frame for this rail is a FACTORY BUILT and by that it is a top quality frame. It has a LIKE NEW 1600 cc engine and it is chromed out with a 4 speed ...
Location:

Greensboro, AL 27239
DUAL SPORT 5 SEATER SANDRAIL, BEAM FRONT END,2276 VW MOTOR, 092 BUS TRANS, 4.87 SUPER DIFF, CLOSE 3RD AND 4TH GEAR, 930 CV`S WITH CHROME MOLLY AXLES, PRP SEATS, ADJUSTABLE CHENOWTH SHIFTER, FOX 2.0 COILOVERS, SACO RACK AND PINION ...
Location:

Palm Springs, CA 0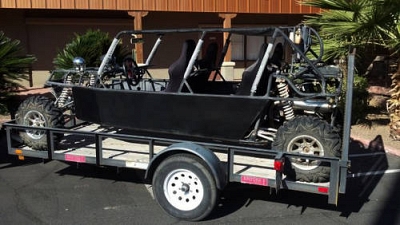 : Roketa 4 seater in excellent condition. Runs perfect, turn signals, brake lights. Suzuki 3 cyl. with electronic ignition. New battery. water cooled ,foot clutch,shaft drive with differential system,4 independent suspension,12" ...
Location:

Tucson, AZ 85737