Lamborghini replica car - Used Cars
Lamborghini replica car for Sale ( Price from $29500.00 to $39500.00)
... Price - $39,500 Seller Description: Come check out this beautiful car only serious buyers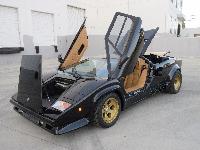 No joyride. No tire kicking. No Trades. If you are not financially ready, please refrain from calling or texting me as I am a busy very person just like you.. Lamborghini Coutach 5000S quattrovalvole with California Lamborghini Title! ...
Location:

Fredericksburg, VA 22408

Transmission:

Manual

Seller:

HotClassic
I have a lamborghini Diablo replica still for sale. It drives great, only has 4,000 miles. New motor on the pontiac Fiero V6 engine supercharged with a Lamborghini Diablo sound. It is properly stretched from the pontiac fiero chassis. ...
Mileage:

4,000 Miles

Location:

Lufkin, TX 75901

Exterior:

white

Transmission:

manual