D16z6 - Used Cars
D16z6 for Sale ( Price from $1000.00 to $6800.00)
167,911 Miles
Las Vegas, NV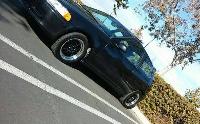 Unfortunately up for sale my 1993 civic si hatch with d16z6 sohc v-tec having a 3rd child so out with this ride due to no time for it. hate to sell. pink slip in hand.FULL FINANCING AVAILABLEINSURANCE AVAILABLENATION WIDE SHIPPING702-847-7706engine ...
Mileage:

167,911 Miles

Location:

Las Vegas, NV 89119

Exterior:

Black

Seller:

Autabuy
... about $6500 in parts and tune alone. Parts list is as follows: -new D16Z6 block and head -Manly forged H beam rods -King race bearings -Wis...
Location:

Bozeman, MT 59715

Transmission:

manual
111,111 Miles
Ashtabula County, OH
1995 delsol for sale got it for a project and just don\'t have time for it. It has the d16z6 vtech with 5 speed tranny body is ruff as I said project car new head gasket and ignition coil will need tires and brake work car does run ...
Mileage:

111,111 Miles

Location:

Ashtabula County, OH 44005

Transmission:

manual