Cutless supreme - Used Cars
Cutless supreme for Sale ( Price from $990.00 to $37500.00)
Summary: Make - Oldsmobile, Model - Cutlass Supreme, Trim - chrome, Mileage - 39072, Drivetrain - 2WD, Price - $9,999 Seller Description: 1967 Oldsmobile Cutless Supreme chrome Used, 39,072 miles, Private Party, Sedan, 8 Cyl, Green ...
Location:

Los Angeles, CA 90017

Seller:

Recycler
1977 Oldsmobile Cutlass Supreme Pace Car This is not a production Delta 88 pacecar but a Cutless, 1 of 1 Custom Build to pacecars spec 455 HO V8 Motor Hurst T-Tops Stunning Two Tone Paint & Interior Tons of Fun to Drive Factory ...
Location:

Lakeland, FL 33801

Exterior:

Black

Seller:

Primo Classics International, LLC
102,000 Miles
Calabasas, CA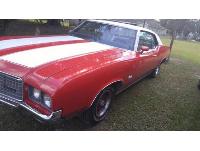 GET IT SHIPPED Free Auto Shipping Quote: 1972 cutless Oldsmobile cutless supreme fiesta package 102,000 original miles. Rebuilt 2 years ago Rocket 350 engine with upgrades altanator,radiator,new gas tank,.. Rochester 4 barrel. Strait ...
Mileage:

102,000 Miles

Location:

Calabasas, CA 91302

Exterior:

Red

Transmission:

Automatic

Seller:

FossilCars
158,000 Miles
Westpark, OH
...cutless supreme everything woks as it should
Mileage:

158,000 Miles

Location:

Westpark, OH 44111

Transmission:

automatic
278,500 Miles
Cincinnati, OH
You are looking at a 1984 Oldsmobile Cutless Supreme. Was a V6 car now a V8. Has a 307 Oldsmobile motor in it, not sure the mileage on the motor. Runs and drives good. Power steering and power brakes. Brand new tires. Gauges and ...
Mileage:

278,500 Miles

Location:

Cincinnati, OH 41056

Exterior:

Blue

Transmission:

Automatic
... KEEPS FLAGGING MY SHIT IS A FUCKING LOW LIFE SCUMOldsmobile LS SL Cutless Supreme Ciera GM ford chrysler saturn chevrolet relay impreza saa...