Location:

Sioux Falls, SD 57108

Transmission:

 Manual

Seller:

American Listed
79,497 Miles
Sioux Falls, SD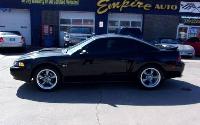 So Rare to find a car like this with low miles and in such good condition. Look at the New wheels and tires 9 18'sin front and 10 18s in back give it that , Oh, I just got to have it look, don't you think. Runs and drives the best! ...
Mileage:

79,497 Miles

Location:

Sioux Falls, SD 57105

Exterior:

Black

Transmission:

Manual

Seller:

Autabuy
... Rear Seat, Vanity Mirrors WOW!! ONLY 82,000 MILES ON THIS BAD BLACK GT!!
Mileage:

82,096 Miles

Location:

Groton, SD 57445

Exterior:

Black

Transmission:

Automatic