1986 f150 4x4 - Used Cars
1986 f150 4x4 for Sale ( Price from $1000.00 to $3995.00)
54,000 Miles
Mundelein, IL
1986 Ford F150 4x4 Lariat Edition Pickup Truck 351 5.8L V-8 Engine 4V/Automatic Transmission Automatic Transmission In the Same Family Since New 1 Repaint back to Original Colors Red Exterior Burgundy interior- bench seat The Truck ...
Mileage:

54,000 Miles

Location:

Mundelein, IL 60060

Exterior:

Red

Transmission:

Automatic

Seller:

North Shore Classics
Summary: VIN - 1FTEF14H6GPB84999, Make - Ford, Model - F150, Trim - XLT, Mileage - 63825, Drivetrain - 4WD, Price - $2,000 Seller Description: 1986 Ford F-150 XLT Lariat Short Bed 4x4 Rust Free 5.8L V8 Engine Low Miles. For more ...
Location:

Cincinnati, OH 45208

Seller:

Recycler
Dealer#9675 *4x4* *4wd* *F250* *F-250* F-250, F250, F 250, 4x4, 4wd, four wheel drive, 4 wheel drive, truck, pickup, Automatic, auto, Dodge Ram 1500, Dodge Ram 2500, Dodger Ram 3500, 1 ton, Chevy 1500, Chevy 2500, Chevy 3500, Ford ...
Location:

Portland, OR 97216

Exterior:

Blue/White

Transmission:

Automatic 3-Speed

Seller:

Auto Lane
I have for sale a 1986 Ford F150 4 wheel drive. 300 inline 6 and 4 speed transmission. I have owned the truck for 2 years or so. I bought it as a non running project that has turned into a daily driver. Up until recently I was putting ...
Location:

Prospect, Ohio, OH 43226

Transmission:

manual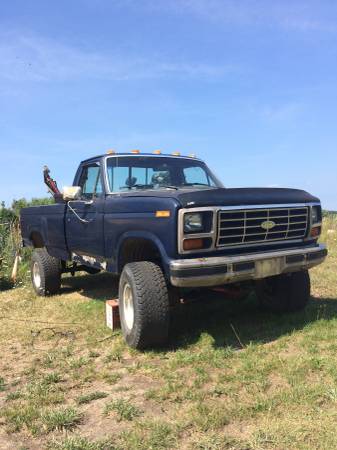 1986 Ford f150 condition: good cylinders: 8 cylinders drive: 4wd fuel: gas odometer: 141 title status: clean transmission: automatic I just got it in on a trade and just looking to sell it. Has 15in aluminum rims with 33\'s that ...
Mileage:

141 Miles

Location:

Brant, NY 14027

Transmission:

automatic
...1986 Ford F-150 4x4 300 6 cylinder automatic Needs a transmission $1,000.00
Location:

Athens,OH, OH 45701

Transmission:

automatic