1984 toyota 22r - Used Cars
1984 toyota 22r for Sale ( Price from $1950.00 to $5000.00)
Summary: VIN - JT4RN66S9E5016907, Make - Toyota, Model - Tacoma, Trim - SR5, Mileage - 170102, Drivetrain - 4WD, Price - $2,000 Seller Description: 1984 Toyota Tacoma Xtra Cab SR5, 100% Original Paint, 22R 2.4 liter, 4-cylinder ,5-Speed ...
Location:

Columbus, OH 43235

Seller:

Recycler
279,000 Miles
Oroville, CA
no texting, 84 toyota 4x4 straight axle, 22r, 5 speed, recent smog, registration current for a year, tires are 5months old, new shocks in front, and stabilizer shock, new brakes, bed liner, 279.000 miles, clutch is perfect, exust ...
Mileage:

279,000 Miles

Location:

Oroville, CA 95966

Transmission:

manual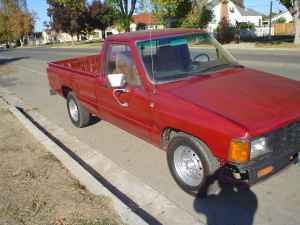 HAS REBUILD ENGINE (THE TOYOTA MOTOR 22R) NEW CLOCHE,NEW RADIATOR AND 175XXX MILES, CLEAN TITLE,, RUNS GREAT,,PASS SMOG LIKE CHAMP!!! CALL ME 209)338-4872THE $1500 ARE FIRM. THANKS... Location: NEWMAN/GUSTINE CAit`s NOT ok to contact ...
1984 Toyota 4-Runner. First year of production. Solid Axle. Carburated 22r with Weber carb. With I think what is a 81-82 22r because I think it is has a double row timing chain. Very rare vehicle indeed. This is tons of peoples dream ...
: Ive got a 1984 Toyota SR5 truck. Its a sweet reliable pickup. Its a 22R, runs like a champ, all the gauges work, and Ive had no problems with this truck at all. Only reason Im selling is because I have a brand new 4 runner that ...
Mileage:

210,000 Miles

Location:

Seattle, WA 98258