1970 dune buggy - Used Cars
1970 dune buggy for Sale ( Price from $2200.00 to $12500.00)
Location:

Dale City, VA 0

Seller:

American Listed
Here is a fun little ride for not a lot of money. This vehicle is titled as a 1970 Visit JKs Galleria Of Vintage online at jkgalleria.com to see more pictures of this vehicle or call us at 888-545-2512 today to schedule your test ...
Mileage:

3,265 Miles

Location:

Salem, OH 44460

Exterior:

Yellow

Transmission:

Manual

Seller:

JK`s Galleria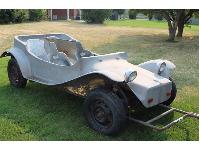 GET IT SHIPPED Free Auto Shipping Quote: 1970 Volkswagen Beetle Dune Buggy *VW fiberglass body bug Project car*. It's a 4-seater fiberglass body on a full-length VW bug floor pan with a title. There are several miscellaneous parts ...
Location:

Cadillac, MI 49601

Seller:

FossilCars
: I have a street legal 1970 Dune Buggy with a 1600 DP and 34pic Solex carb. Engine runs good just have to fine tune the carb. It was shortened 14in and gives it a real sleak look. I am wanting to trade or sale. Looking for any VW ...
Location:

Greensboro, AL 27299
: 1970 Volkswagon Dune Buggy Berry Mini-T. Street Legal Buggy with 1835cc motor. Same owner over 30 years. Rare model with rear seat on a full beetle frame, plenty of room inside. Runs great, plenty of power. New tires, New battery ...
Location:

Sarasota, FL 34229